Hidden Dog Fence Professional Installation – Brand Comparison
Mike, Adam, Matthew Sinteff and the team at Pet Stop of North Georgia, guarantee the most professionally installed electronic pet fence in the Atlanta Market, All North Georgia, and surrounding areas. – We have our office in Dahlonega, Georgia. Hidden Dog Fence Professional Installation – See Brand Comparison with Invisible Fence and Dog Watch Brands below.
With over 10,000 fence installations, in the last 20 years, they know how to install a fence that works best for your dog's safety and comfort and insures you will never buy another component for your underground dog fence and guarantees the safety of your boundary wire. Pet Stop North Georgia uses 14 gauge boundary wire with a 50 Mil jacket.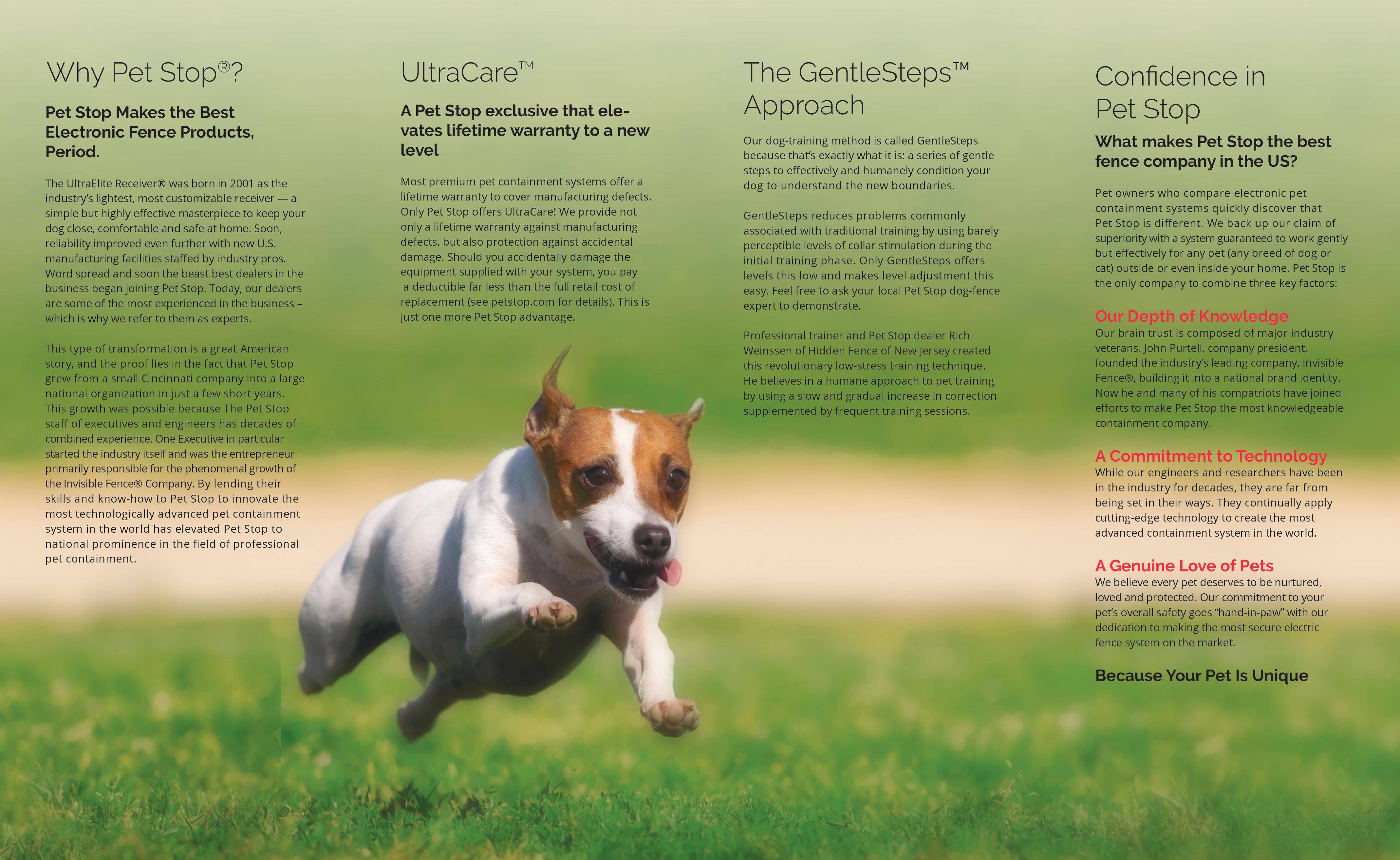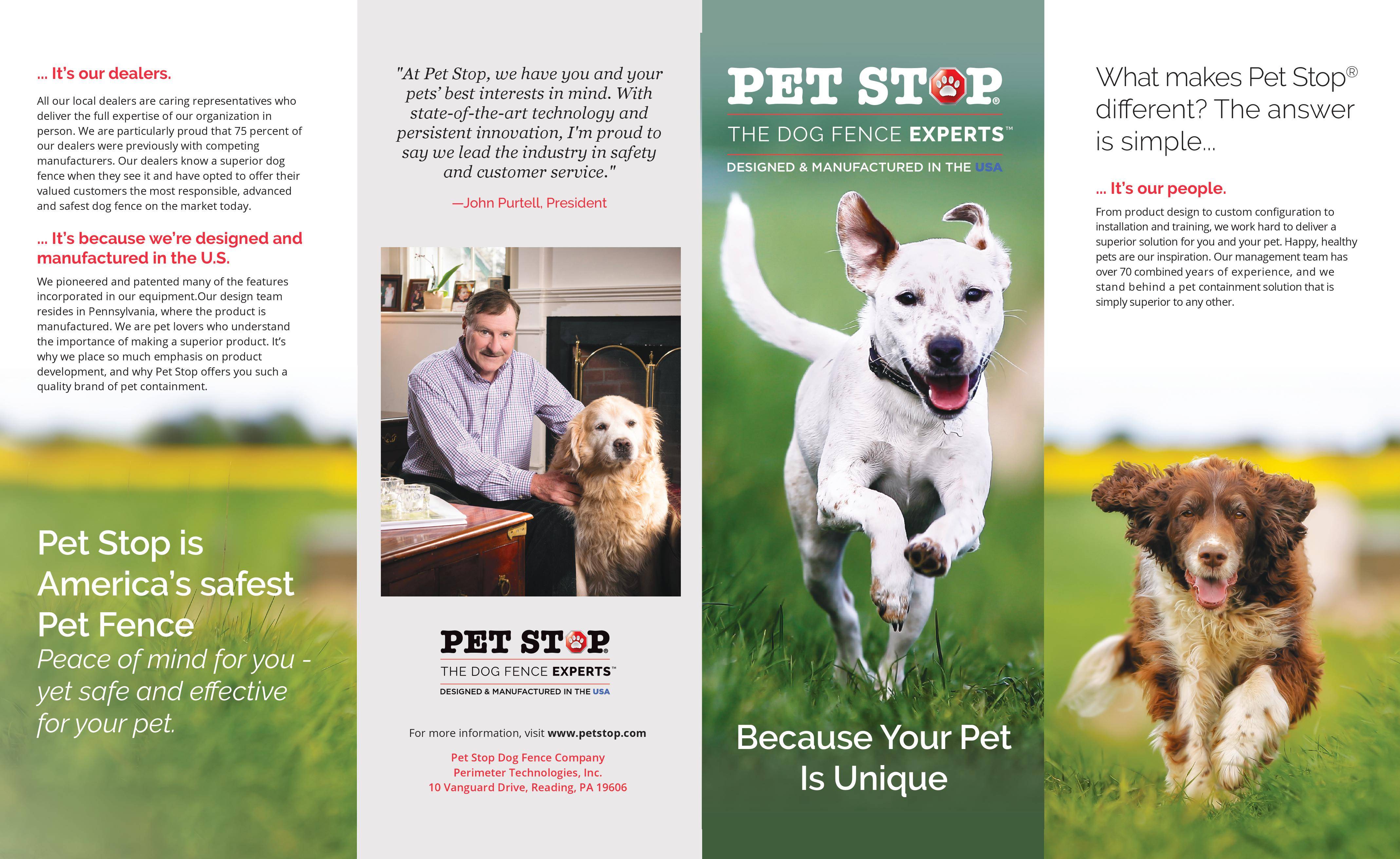 The Sinteff's

use only state of the art components, USA Manufactured imported raw materials, which come with a life-time warranty against malfunction for any reason. Ultra Care

TM

guarantee that once you install Pet Stop, you will never buy another piece of equipment for your fence. Our fences come with life-time warranties on all components and life-time containment guarantees with each dog collar we sell.
Boundary Wire: We install your pet's boundary wire within 6 inches of sidewalks, driveways and curbs as well as 6 inches off your property line. We never run your wire where it will be in danger of being cut by your landscaper. We guarantee and protect your boundary wire.
System Protection in installation: Pet Stop takes a little longer to install and is a little more involved, but to the team at Pet Stop, the extra time and materials spent is worth our effort. We work hard to minimize any possibility of a service call after the installation. We are the only company in Atlanta to install three forms of lightening and surge protection with every installation, and install the boundary wire approx. 6″ deep.
Service Call Prevention: Through many installation enhancements and Pet Stop's swap-out program, we have almost eliminated your Service Call cost. If a component stops working for any reason at all, and you are willing, we will gladly mail you the replacement component and you will mail us the component that does not work any more.
After the installation we will take you on a component by component tour of your new Hidden Dog Fence, we will ensure you understand your Underground Dog Fence, how it functions and what we did to protect its function.
We will locate your utilities and activate your sprinkler system before we install so we know where everything is. If we break it we fix it, "no questions asked". By code you water supply lines should be 10″ so we are not responsible for those lines.
Gentile Steps Training: After the installation we will do a "Train the Trainer" session with you and your family. We will explain how your family pet will interact in his new electronic dog fence. He will be safely contained, we guarantee it or we refund 100% of your investment. This Patented Training Gently shows your dog where he can and cannot go.
If you are having problems with your family pet using his new yard, we will come out at no cost and give you a hand.
The Sinteff's know how to treat their customers right; we will do everything possible to make your Pet Stop Experience one that you will tell your friends and neighbors about year after year; it is very hard to beat the Pet Stop Experience, truly "The Best Dog Fence You'll Never See!"
Brand Comparison
To see brand comparison on a mobile device click here.
COMPARE EQUIPMENT BRANDS
Pet Stop® Brand
Pet Safe DIY Containment System
Dog Guard® Brand
Dog Watch® Brand
MANUFACTURING COMPANY
Perimeter Technologies, Inc.
Design, Engineering & Manufacturer
Radio Systems Corporation
By Contract Manufacturers
Sunward Electronics, Inc.
By Contract Manufacturer
Dogwatch, Inc.
By Contract Manufacturer
DESIGNED &
MANUFACTURED
USA  Manufactured imported raw materials
CHINA
(By Pet Safe)
Won't Disclose
(Parts assembled in USA)
CHINA
(Some parts assembled in USA)
MANUFACTURER'S
EXPERIENCE
20+ YEARS
(Most Experienced Management & Engineering team in the industry)
37 YEARS
(Founded in 1975 by John Purtell, Pet Stop's President)
19 YEARS
(Founded in 1993. Much smaller than other companies compared here)
22 YEARS
(Founded in 1990 in
Massachusetts.)
EQUIPMENT WARRANTY
Ultra-Care Lifetime
All Containment Products
Standard 1 Year
(Lifetime on some products)
Standard 2 Years:
(Lifetime for Additional Fee)
Lifetime
All Containment Products
DOG CHEW WARRANTY
YES
YES
Unknown or Won't Disclose
YES
DEALER NETWORK
Large (>150 Dealers)
Large (>150 Dealers)
Small (1-75 Dealers)
Large (>150 Dealers)
CROSS-BRAND COMPATIBILITY
Programmable for Compatibility with All Major Brands
None
None
None
SIGNAL TYPE & OPTIONS
• DM (Computer Generated Digital)
• 5 Frequencies, 5 Modulations
• AM (Digital)
• 2 Frequencies, 2 Modulations
• AM (Digital/Analog)
• 2 Frequencies, 1 Modulation
• FM (Digital)
• 2 Frequencies, 1 Modulation
LIGHTNING PROTECTION
• On-Board (All Transmitters)
• Includes Grounding Rod, Surge Protector
• Requires additional external lightning protection device
• On-Board (All Transmitters)
• On-Board (All Transmitters)
PROGRAMMABLE
CONFIGURATIONS
Over 9000
Owner Adjustable Through Blue Tooth
"Thousands" (# Not Specified)
Requires Dealer Service Call to Adjust System
Receivers are
Not Programmable
"Over 100" (# Not Specified)
Owner Adjustable
TRAINING LEVELS
9 Ultra Low Levels
None
None
None
CONTAINMENT LEVELS
32
Employs Progressive Corrections
Self Adjusting
5
32*
20*
INDEPENDENT COLLAR SETTINGS
All Settings Independent
Fully Programmable by Customer
All Settings Independent
Some Independent Settings
*Corrections Transmitter-Dependent
Some Independent Settings
*Corrections Transmitter-Dependent
CONTACT POST OPTIONS
8
3 Comfort Contacts, 4 Stainless Steel,
1 Gentle-Spring Retractable Patented
2
Rigid Stainless Steel Only
3
Rigid Nickel-plated Brass
3
Rigid Stainless Steel Only
RECEIVER COLLAR OPTIONS (Weight) Our Max Correction Strength Rating◊ (Min. 1 – Max. 10)
• UltraElite™ S2 (1.3 oz) – 8
• UltraTuff™ S2 (2.0 oz) – 8
• UltraMax™ (2.3 oz) – 10
• EcoLite™ RC (0.88 oz) – 10
* LINK™ BLUE TOOTH RC RECIEVERS (0.7 oz)
• MicroLite™ (1.0 oz) – 5
• R21 Titanium (1.6 oz) – 7
• R22 Platinum (1.9 oz) – 7
• DG5000 (2.4 oz) – 6
• DG9000XT (2.9 oz) – 9
• DG Micro (1.8 oz) – 5
• R1200 (2.2 oz) – 7
• R1200m (1.7 oz) – 5
• R9 (2.2 oz) – 7
• R7 (1.7 oz) – 5
• R7 Mini (1.3 oz) – 4
RECHARGEABLE & Diagnostic
RECEIVER OPTION?
Rechargeable EcoLite™
Link™ Bluetooth Smart Receiver
None
None
None
ADDITIONAL RECEIVER OPTIONS
(varies by model)
► Gentle Steps™ Training Mode
► 3-Level Stopper™ Mode
► Variable Distance Settings
► Anti-Run Through Technology™
► Indoor / Outdoor Setting
► SmartDoor RFID
► Not Programmable
► No Low Battery Light
► Auto-Memory
► "Tattletale" Light