Hidden Dog Fence Training For Your Pet Stop® Dog Fence
Day by Day Instructions & Helpful Tips
Once the Pet Stop® electronic dog fence is installed, the initial training session begins. All dogs learn their Hidden Underground Dog Fence Boundaries fastest using Pet Stop's Unique "Gentle Steps Approach to Containment".
These instructions, written by Mike from the perspective of a trainer, are designed for you as the Pet Stop trainer for your dog. This process works for all dogs in Pet Stop, Underground Dog Fence and Dog Watch Brands Hidden Fence Systems. If you are having difficulties with containing your dog in an Hidden Dog Fence, give us a call at 404-536-6770 we can help.
Day 1
Be sure one of the posts on the e-collar is covered with electrical taped so the dog is not corrected prematurely. Your dog must only go out with Pet Stop collar and leash on so that he is not able to bolt out of the yard.
Try not to be timid or protective of the dog during the training process – dogs can sense worry & nervousness from you, which will make your dog nervous and apprehensive as well.
Your dog must be on leash for the first 7-10 days, and you should do two training sessions each day for 7-10 days. Always let your dog out from the same door, put his collar on, and use specific commands, such as: "Lily, stay in the yard!" or "Lily, watch it!"
Fit the collar just behind the ears, so that there is room for one finger space between the collar and the dog's skin. The collar should be snug and not loose
Lead the dog toward flags until the collar sounds, say, "Lily, bad flag" then do a recall saying "Lily Come!" or "Lily Watch it!," directing the dog to the center of the yard for 5-10′ and give verbal praise and petting, do not give treats. Work with only one dog at a time.
You may have family member stand on the other side of the fence to act as a distraction (they can be rolling a ball, playing with a neighbor's pet, or doing other distractions).
Stress the importance of trying several locations of fence as well as any of your dog's "favorite escape routes."
Do five minutes of training in the front yard in the morning, and five minutes in the back yard in the afternoon. These five-minute sessions teach the dog where he cannot go. The other three times, take your dog out into his new fence to go potty do a boundary walk, for 10 minutes or as much as you would like, around your property. These boundary walks teach your dog where he can go; both sessions are equally important and both sessions are a must or your dog may not want to go outside your home.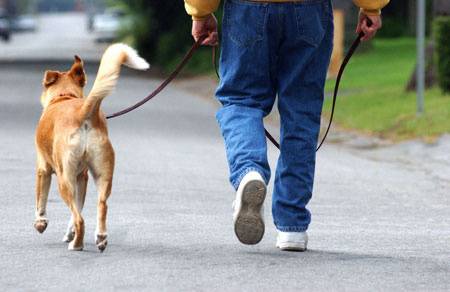 The new Pet Stop system has literally thousands of personalized adjustments, including the ultra-low levels needed for GentleStepsTM training. Whether it's interference problems, tricky installations like small lots or even lots of dogs, our exclusive programming capability enables Pet Stop professionals to install the fence to teach your pet to respect her new boundaries quickly and most important, happily. We aren't limited by our equipment's flexibility. And, we don't think you should settle for anything less either.
After your pet is safe and comfortable behind her fence, higher levels can be used to help even the most committed escape artist to resist the many natural distractions that might jeopardize their safety such as squirrels, bikes or speeding cars.
More Information on Professional Training Options: