INDUSTRY LEADING TECHNOLOGY
Fencing
The technology in the Pet Stop system doesn't end with the Receiver collar. It's built right into the Transmitter and the Fence Line as well – giving you the safest, most secure and most customizable options in the neighborhood. The boundary wire (Electronic Pet Fence Line) is buried out
of sight to preserve the beauty of your landscape. In the Smart Zone , the system can be programmed for a variety of settings including the warning time and how the correction is initiated. But for a dog that is insistent on running away, Pet Stop's exclusive Fail Safe Zone instantly activates a correction at the highest preprogrammed level, ensuring that your pet – no matter what breed or temperament – stays safe in the yard.
Your authorized Pet Stop professional is a powerhouse of knowledge. Each one is a specialist in installing the system, customizing the settings for your pet's size, breed and personality – and training to make your pet's adjustment to this new world as quick and painless as possible.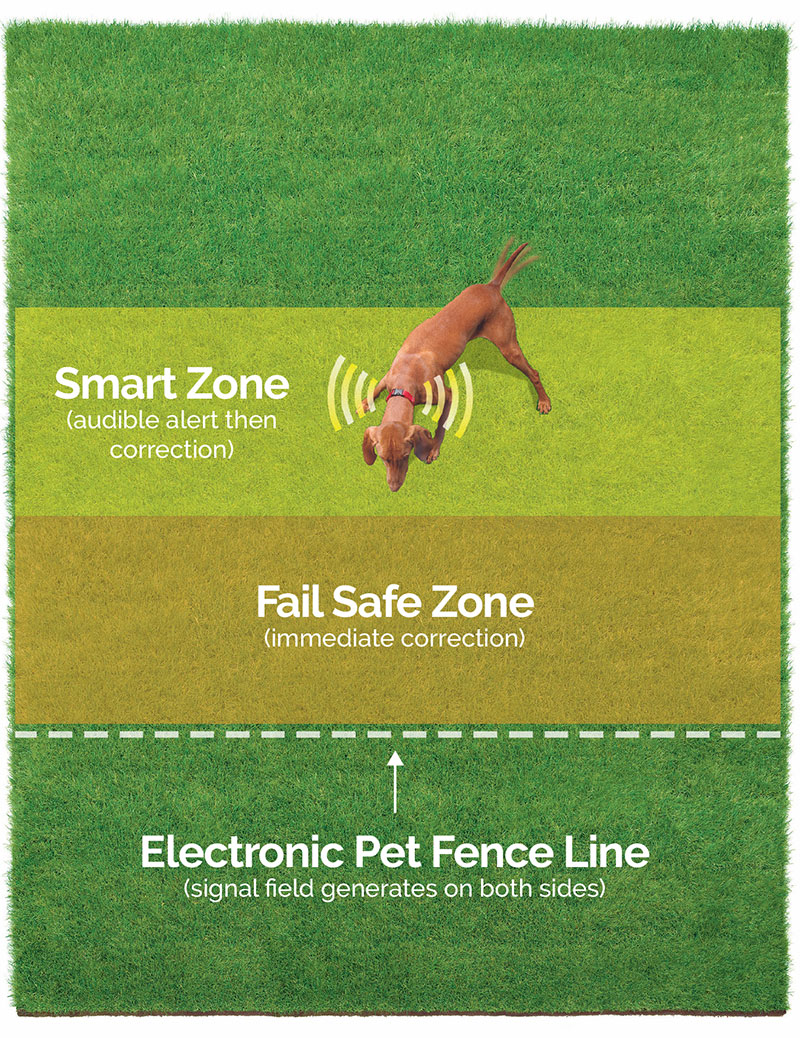 Call us at (404) 536-6770 for FREE in-home consultation:
Let's Get Started! Installations within 72 Hours!
OUR SYSTEM
Our system really is superior — giving you complete assurance that your pet will be safe and secure. Our system includes a
computerized receiver, a digitally designed transmitter and the peace of mind you get from a best-in-class product warranty.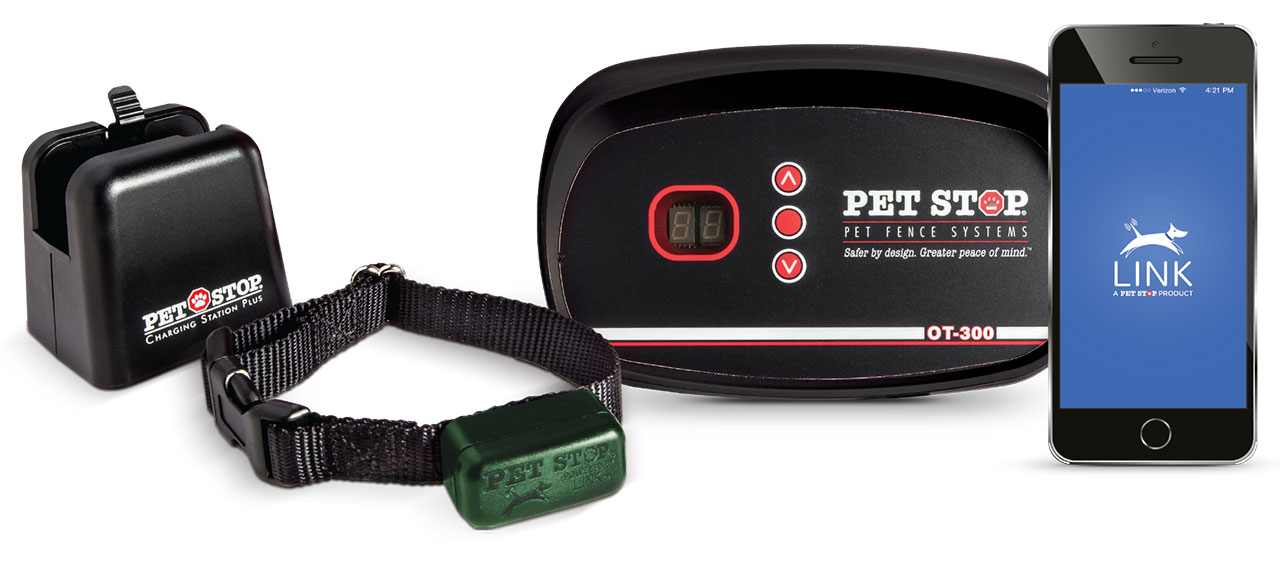 EcoLiteTM System w/Link™ Technology
The EcoLite Plus Receiver is state-of-the-art in pet fence technology. No more batteries to replace. It's the first professional-grade receiver that permits recharging. It's small, lightweight and features an optional night light for monitoring your pet's location in low light or at night. It comes with either a Pet Stop charging cradle or the optional Charging Station Plus (a diagnostic charging cradle that checks your receiver for faults every time it's charged), giving you Peace of Mind that you'll discover any problems before your pet does.
One of the greatest features of the EcoLite Receiver is its versatility. Previously containing highly determined pets required replacing the receiver but no longer. Now it is as easy as changing a setting thanks to improved technology. Just another reason to choose Pet Stop.
Of course, the EcoLite Rechargeable Receiver comes standard with UltraCare™ coverage. Or ask your dealer about UltraCare Plus™
Charging Station Plus
Patented technology that tests your receiver every time it's charged giving you Peace of Mind that you'll discover any problems before your pet.
LINK TECHNOLOGY:
Imagine a system that actually monitors your pet's behavior and sends you notifications on your smart phone if a setting needs to be changed or alerts you to a fault. Then, within a nanosecond, you receive an update you send to your dog's collar. Voila! It's done. Link is simply amazing. You'll have access to real-time information on-demand, like when your dog's collar needs to be charged or to check if your dog(s) is challenging it's boundaries. It's all there at your fingertips.
The night light feature allows you to remotely activate a light allowing you to track your pet at night more easily.
Our integrated remote training feature allows you to use your containment collar as a training collar. The industry's only professional system combining both features into one, while giving you separate correction level control from your fence settings. This feature is great to help break nuisance habits like jumping, counter-surfing and excessive barking to name a few.
Link takes all the worry out of pet fence ownership by using Bluetooth technology to keep you, your pet, your Dealer and the manufacturer all connected. Not only can Link keep you up to date on your pet's activity and the system status, but it also link's back to your Dealer and the manufacturer, giving you Peace of Mind that we are all working together to keep your pet safe. The beauty of Linking everyone together is having the ability of changing a setting if needed. Your Dealer can simply send updated settings to your phone, you connect your phone to the pet's collar and Voila, it's done. Access to all of the system features is right there at your fingertips.
With just a simple click you can contact your local Dealer to obtain service by email or by text. Link makes it all so easy.
With Link you'll always be able to check the battery level in your receiver with an easy to read visual. When the receiver needs to be charged you'll receive notice on your mobile device in addition to the receiver's low battery light blinking.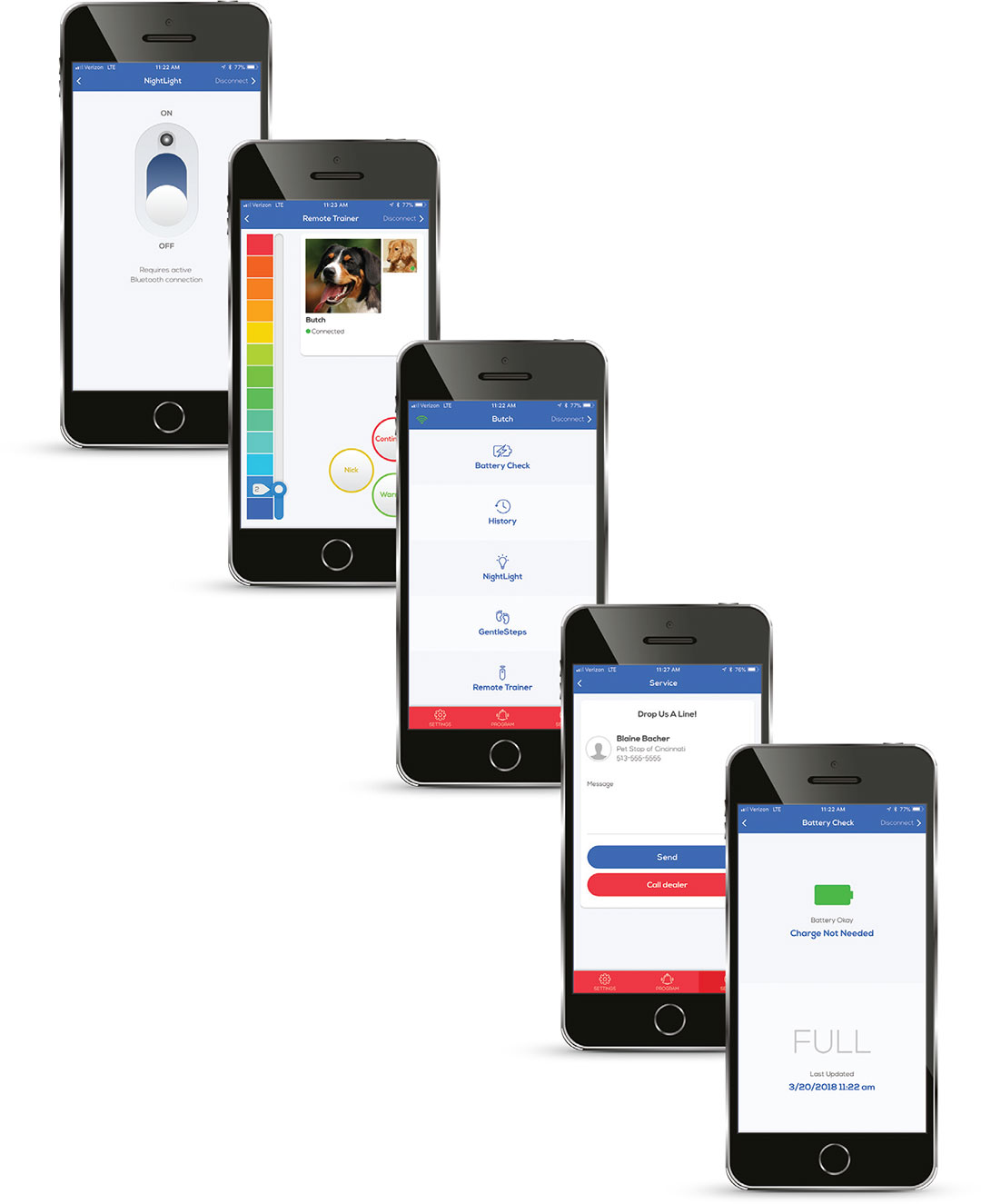 OUR UNIQUE TECHNOLOGY
Transmitters
Pet Stop offers a wide range of transmitters. For outdoors, choose between the OT-150 and our flagship OT-300. For indoor applications, our
IT-200 can be used with or without boundary wire.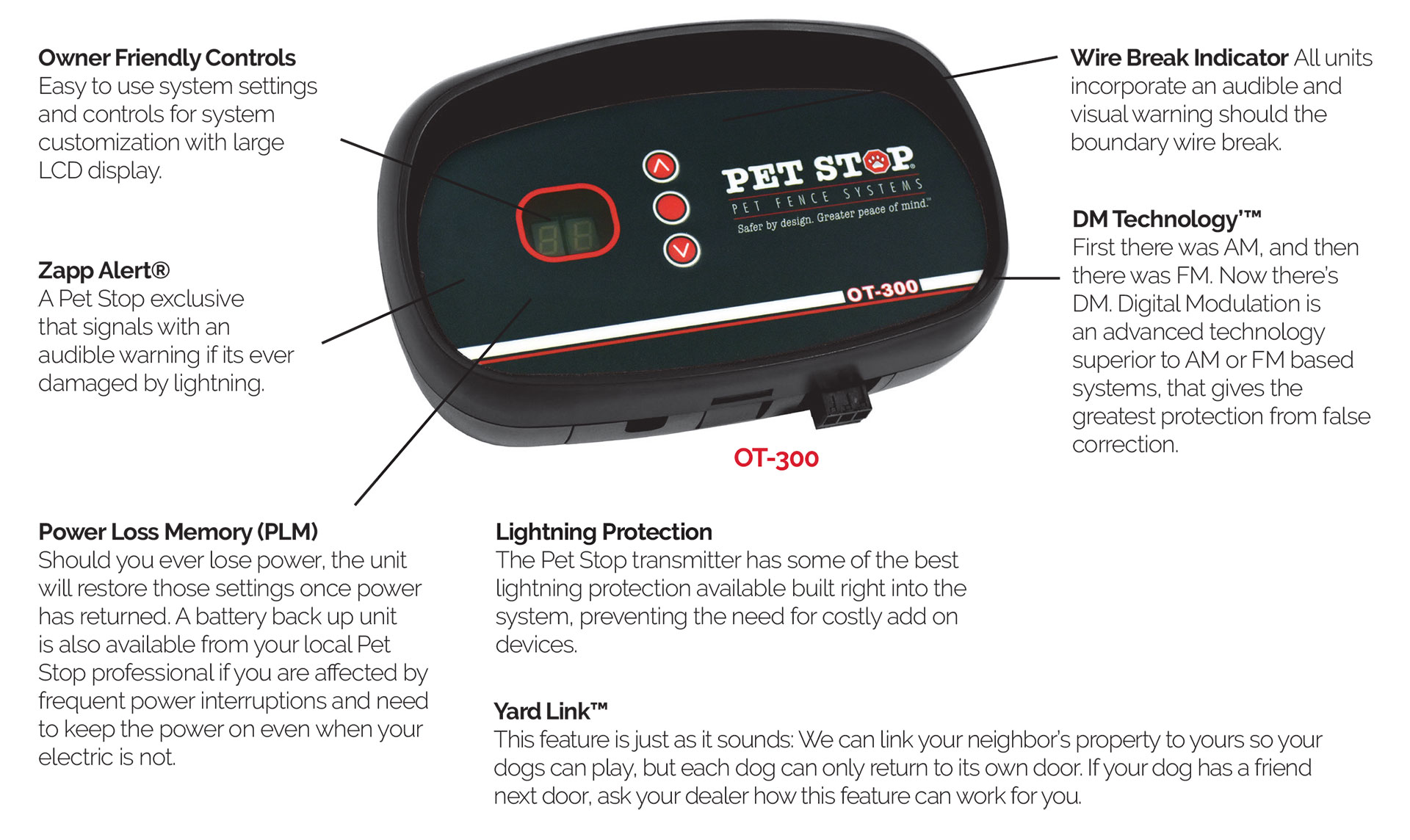 Indoor Transmitters
We know pets inside and out. Pet Stop brings the benefits of boundary setting indoors, too. Pet Stop can help you end wild romps on the expensive furniture, or pre-meal raids onto kitchen counters to lick the casserole.
The boundary can either be a wireless zone or custom wired with the line discretely hidden. In fact, the battery-powered indoor unit can be used in a waterproof enclosure to protect a garden or flower bed outside as well. Pet Stop offers complete flexibility by using either a plug-in version (wireless or wired) or the battery-powered version for both indoor and outdoor avoidance protection.
Pet Stop is a wonderful solution to keep your pet close and safe both inside and outside your home. Your local Pet Stop dealers are trained to recommend a variety of boundary configurations to meet your particular needs.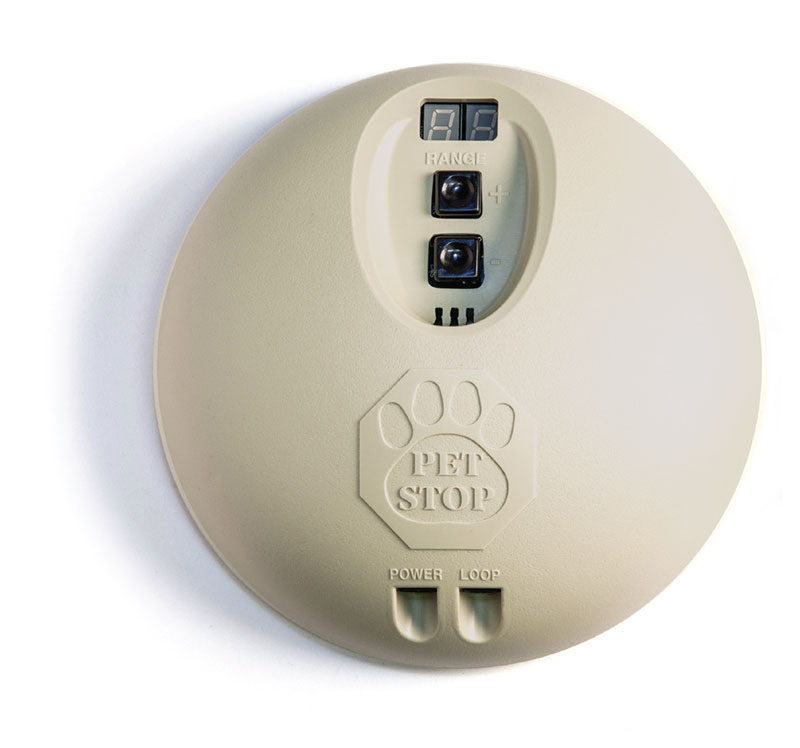 BOUNDARY
Pet Stop is unmatched in its unique programmability to allow for complete flexibility in configuring your particular system. Whether it is an Edge-to-Edge TM or a conventional system that produces a signal on both sides of the wire, only Pet Stop can accomplish both configurations.
This is a unique advantage, particularly if you move or change locations. Each Pet Stop system is custom-configured to fit the layout of your property and the specific breed and personality of your pet. The boundary wire is buried out of sight to preserve the beauty of your landscape. The technology in Pet Stop systems will seamlessly link the computerized receiver collar(s), transmitter and fence line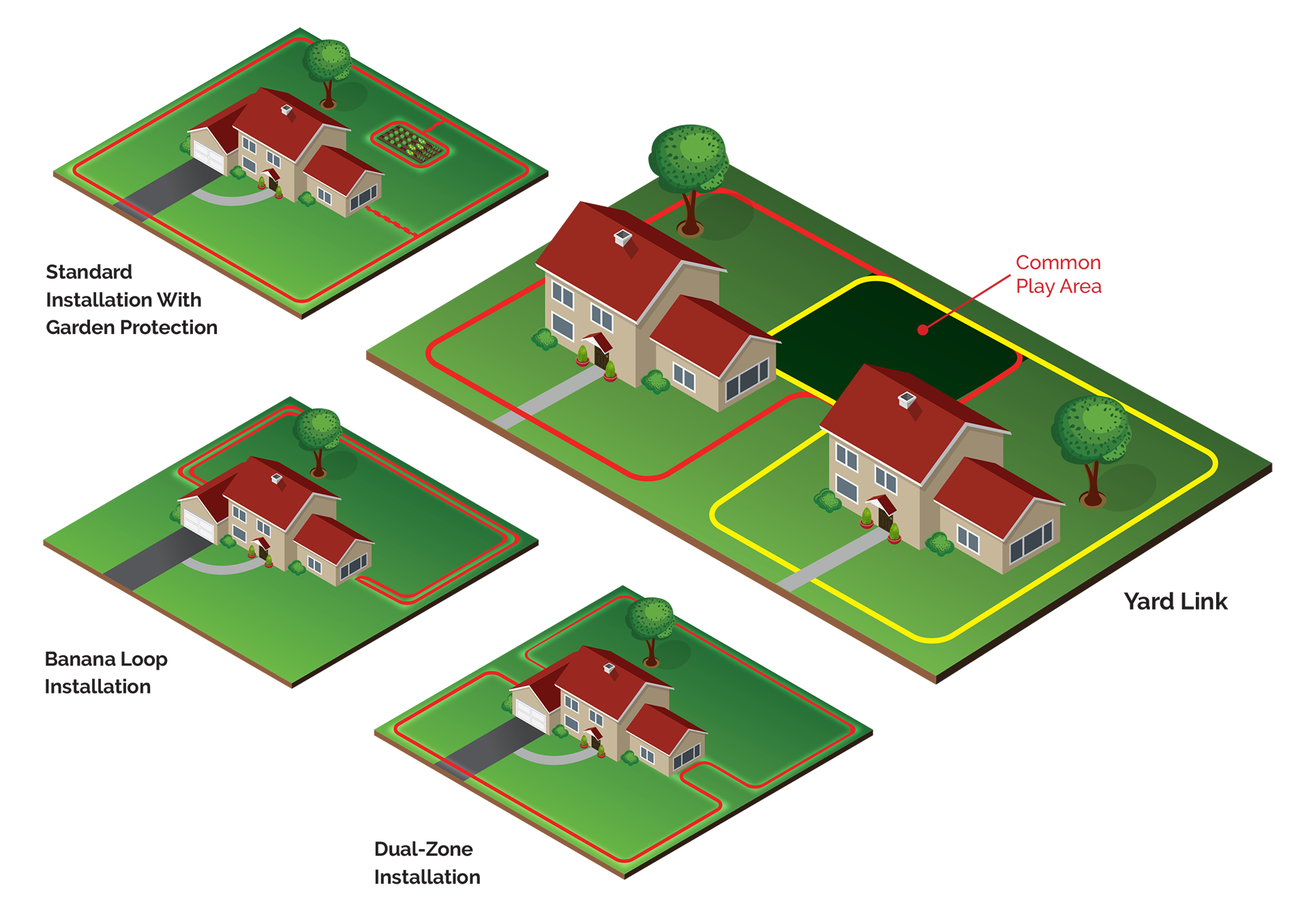 Call us at (404) 536-6770 for FREE in-home consultation:
Let's Get Started! Installations within 72 Hours!