Why
Are Pet
Stop®
Receivers
So Advanced?
They
are Proudly
Made
in America!
We want to provide you with as much information as possible about our Pet Stop ® products so you can make an informed purchasing decision (or learn more about products you've purchased). Below you'll find a detailed description of our products, their warranties, and the technology that makes them so unique. And as always, please give us a call if you don't find what you're looking for and we'd be happy to answer your questions.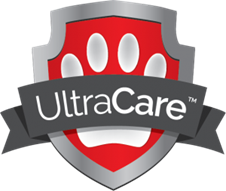 Pet Stop's Unique Lifetime Warranty – unlike any other!
Most premium pet-containment systems offer some sort of lifetime warranty to cover manufacturing defects. Only Pet Stop offers UltraCare!
Pet Stop of North Georgia Inc. offers the strongest manufacture's lifetime, unconditional warranties on safe containment guarantees and Underground Dog Fence systems.
This Pet Stop exclusive goes above industry lifetime warranties by offering not only a lifetime warranty against manufacturing defects, but also protection against accidental damage of any kind. Should you accidentally damage the equipment supplied with your system, you pay only a Manufacture's Processing Fee of $50 to $75 depending on the components. You will never buy another Pet Stop Component with the UltraCare™ Coverage! This is just one more advantage to owning a Pet Stop® system.
Digital/Computer Technology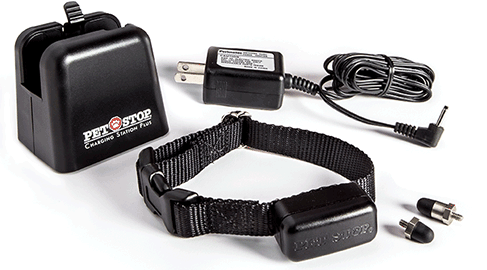 High Out-Put Eco-Lite™ / Rechargeable & Diagnostic Charging Stand
At only ¾ ounce the Eco-Lite is the smallest, lightest receiver in the Hidden Dog Fence industry. With 8000 programing options, it is gentle enough for dogs from 2.5 pounds to over 80 pounds. A 25 year recharging battery life means you never buy batteries again. Pet Stop's State of the Art Diagnostics guarantees that your Eco-Lite is functioning properly each and every time you place his collar on him to go out a safely play in the yard For Greater Peace of Mind™. Pet Stop's Unique Technology is backed by Ultra-Care® Lifetime Warranty and Safe Containment Guarantee. Our Products are, "Safer By Design For
Greater Peace of Mind"™
CHARGING CRADLE FOR ECOLITE™
The included Charging Cradle fully charges an EcoLite receiver within 3 hours. An internal LED will let you know when charging is complete. The computerized Diagnostic Cradle checks the receiver for functionality in five critical areas and will alert you if your EcoLite is in need of service. No other brand offers a rechargeable receiver option.
Professional Series OT-300
FCC assigned DM Signaling is unique to Pet Stop's Superior American Made Technology. This computerized transmitter guarantees that your signal is 100% Accurate and Guarantees 100% system performance. First there was AM, and then FM. Now DM Modulation, an advanced technology superior to AM and FM Based systems. DM Modulation / DM TechnologyTM gives the greatest protection from false activations and provides the industry's fastest activation time at 80 milliseconds guaranteeing your dog never runs through his fence. Simply the most customizable Hidden Dog Fence systems on the market today.
UltraTuff® Receiver / battery operated 9-12 months
The only receiver built to take everything a dog can dish out! You count on your dog's fencing system to provide safety for your dog and peace of mind for you. That's why only Pet Stop® protects our sensitive electronics with the industry's toughest, most durable case constructed with a special blend of thermoplastic. With twice the wall thickness of lesser fencing systems, Pet Stop® provides superior chew resistance, protection from water, dirt and all the tortures that come with hanging around with your dog in the rough and tumble world he lives in! This receiver is smart enough to let you know when the battery needs to be replaced.
UltraMax® Receiver – for very difficult to contain dogs
Larger than the UltraElite Receiver®, the UltraMax Receiver® is designed for more determined dogs. Utilizing a highly efficient circuit, the UltraMax features a host of settings, including an adjustable correction that is the most effective in the business in keeping your pets safe and secure. Pet Stop Receivers operate on 6 volt, 7.5 volt and 12 volt options making our 100% Containment Guarantee the strongest in the industry.
RoomWizard™ Indoor Transmitter
Many people think of electronic dog fence systems as strictly an outdoor affair. But we have a solution when your pet is indoors as well. Using our same highly customizable system, you can specify those places in your home that are free-range and those that need to be pet-free. Pet Stop offers both a wired and battery operated versions. This system is also portable so you can take it camping or on vacation.
Pet Stop Replacement Batteries – Underground Dog Containment Systems Compatible
Pet Stop replacement batteries are innovative, little marvels of technology that work flawlessly with the receiver collar. They're ranked the highest on the market in durability and performance, and they are relatively inexpensive when evaluated next to batteries from companies such as Underground Dog Fence, DogWatch®, PetSafe® and the rest. Batteries average 9-12 months and cost about $10.00
PowerWizard™ Outage Protection
When the power goes out, your Pet Stop® system stays on. That's because the PowerWizard® incorporates circuity that couples to a battery to supply power to the transmitter for hours up to days, depending on the battery your Dealer selects. Simply a great way to ensure that your system stays operational regardless of the environmental.
Competitive Swap-
Out Program
Just because you own a different brand, Underground Dog Fence, Dog Watch, Dog Guard, and Pet Safe Brands, it does not mean you can't enjoy Pet Stop for you and your pet. Mike, Adam, Matthew and Jason offer a special program that allows you to exchange your existing system for new Pet Stop equipment. All warranties and services apply to this offer. All you need is a competitive brand, and we'll make sure to give you reason to switch. Even if you are not happy with your current companies service, contact us! We will extend our UltraCare™ Coverage to your Equipment!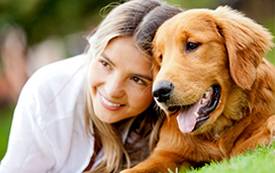 Underground Dog Containment System Compatible
Underground Dog Containment Systems Compatible 

with

Power Cap Battery™
If you're one of the millions of Underground Dog Fence dog fence owners that think you are trapped with the high cost of maintenance and replacement parts, think again! Save up to 50% on replacement receivers, transmitters, batteries and more with Pet Stop. Replacement fencing parts from Pet Stop offer OEM quality components at a fraction of the original cost. Why pay more?